Scholarship Slam
This is CREATE's most fun event!
The Scholarship Slam may be a presentation, performance, or film
Students have just 3 minutes to present their project/idea/thesis (no question period)
One Microsoft PowerPoint slide is allowed with a maximum of 25 words and photos (no video please)
Props and costumes allowed
Students must use non-technical, layman terms
Any presentation or prop requirements must be approved by

the 

SRCA (kendra.stiwich@viu.ca) 

and must be 

uploaded by Thursday, March 29, 2018 
The Slam must consist of university appropriate content and language
There are limited spots, so sign up fast!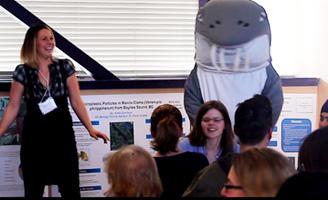 For use of the VIU Logo, please follow the guidelines.
Tell your friends and family you're attending the 2018 CREATE Conference by marking yourself as 'Going' on our Facebook event page and sharing it in your newsfeed!