Research grants from Canada's three federal funding agencies (the Canadian Institutes of Health Research (CIHR); the Natural Sciences and Engineering Research Council (NSERC); and the Social Sciences and Humanities Research Council (SSHRC) fund the direct costs of research, which include salaries, travel expenses, student stipends, research materials, etc.
 There are also indirect costs associated with research which are often more difficult to identify and quantify.  These include expenses such as: provision of space including the costs of maintenance and utilities; maintenance and repair of research equipment; computing resources; library resources; insurance; and support by VIU service departments (Facilities, Finance (Accounts Payable/Accounts Receivable), Human Resources, Payroll, Information Technology, Office of Research Services, Purchasing, and Security).
The Federal Government recognized these costs and created a program known as the Research Support Fund (formerly the Indirect Costs Program). The Research Support Fund (RSF) is intended to assist universities in covering some of the indirect costs associated with managing the research funded by the three federal granting agencies.
 The Research Support Fund is a Tri-Agency initiative administered by the Tri-Agency Institutional Programs Secretariat.  In January 2012, the Federal Government mandated that all institutions receiving this assistance disclose information publicly about the indirect costs of research and their use of the Research Support Fund. This webpage exists to meet that requirement.
 Definition of the Indirect Costs of Research
 Indirect costs, as defined by the Federal Government RSF program can include the costs of: maintaining modern labs and equipment; providing access to up-to-date knowledge resources; providing research management and administrative support; meeting regulatory and ethical standards; and/or transferring knowledge from academia to the private, public and not-for-profit sectors.
 Description of the Use of the Research Support Fund at VIU
 The Research Support Fund allows for five expenditure categories:
Research facilities
Research resources
Management and administration of an institution's research enterprise
Regulatory requirements and accreditation
Intellectual property and knowledge mobilization
At VIU, our priority is to establish a base level of support for the research administration function and to ensure compliance with Tri-Agency guidelines; therefore, we have directed funds to the categories of: 1) management and administration of the institution's research enterprise; and 2) regulatory requirements and accreditation; and 3) intellectual property.  Once we have reached baseline support in those areas, funding will be directed to other areas that will help build capacity for VIU.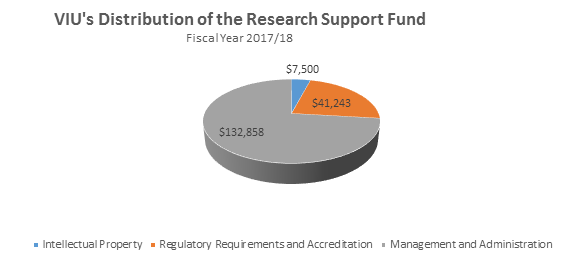 Impacts of the Research Support Fund at VIU
The Research Support Fund is critical to VIU as we build systems to support research. Without this grant, VIU would need to find alternative sources of funding to support administrative and regulatory processes that are imperative in order for us to maintain eligibility to receive Tri-Agency funding.
Some of the general benefits of the RSF at VIU include:
Support of the Animal Care Committee - veterinarian and vet services, professional development for the Animal Care Committee, and development of animal care Standard Operating Procedures;
Support of VIU's Research Ethics Board - professional development for the committee and education of faculty and students in research ethics;
Grant facilitation services for researchers;
The creation, development, and maintenance of systems to enable the tracking of research grants;
 
Assistance and advice in the negotiation and finalization of research contracts/agreements;
Intellectual Property (IP) protection.
Specific impacts:
The funding allows for two part-time Grant Facilitators to support faculty in the identification and development of research grant applications. Having two positions results in an expanded breadth of expertise and allows VIU to expand its research capacity by supporting its researchers. VIU's support of grant facilitation and administration has enabled some VIU researchers to develop research programs that result in partnership agreements, collaborative research projects, etc. Through these research projects, undergraduate and graduate students, as well as postdoctoral fellows, have been hosted at VIU.  Our Grant Facilitators also develop and deliver professional development workshops for students and faculty.
The grant provided by the RSF contributes toward the salary of an Ethics Officer to oversee the institution's Research Ethics Board and Animal Care Committee. This position has been instrumental in formalizing research ethics and animal care tracking databases and future plans include implementation of a new, expanded system for certifications.
The RSF has provides funding for a position with responsibility for VIU's intellectual property (IP) and research contracts. This support allows for faculty to enter into research contracts and patent their inventions.
The Scholarship, Research and Creative Activity Office receives approximately half of its funding from the RSF program and provides services to faculty and students including:

Support with the identification, preparation, review and submission of external research grant, scholarship and award applications;
Funds for the delivery of professional development activities related to scholarship, research and creative activity (i.e. workshops, seminars);
Maintenance of the VIU research website containing online tips and resources to assist in grant application and administration processes;
Personnel to administer faculty and institutional grants to ensure compliance (i.e. research ethics, financial management, reporting, etc.) with external agency guidelines (i.e. Agreement on the Administration of Agency Grants and Awards by Research Institutions);
Personnel to assist in the development and negotiation of research contracts and to support researchers in the patenting process;
Promotion of awareness for VIU's Scholarship, Research and Creative Activity by enabling the development of annual research report publications and the annual student research poster event, CREATE;
Support for institutional research-related committees and initiatives.