Institutional Approval Process
When you are prepared to apply for an external research grant or initiate a research contract, it is important to notify the Scholarship, Research and Creative Activity (SRCA) Office of your plans. Wondering what the difference is between grants and contracts? If so, this Guide to Contracts vs. Grants may assist you.
All research proposals (including grant applications, expressions of interest and other responses to requests for proposals and contract tendering processes) must be approved by your Dean and the Associate Vice-President, Scholarship, Research and Creative Activity by completing an External Grant/Contract Intake Form in the ROMEO online portal prior to their submission. This online form replaces the paper based Institutional Signature Sheet (ISS).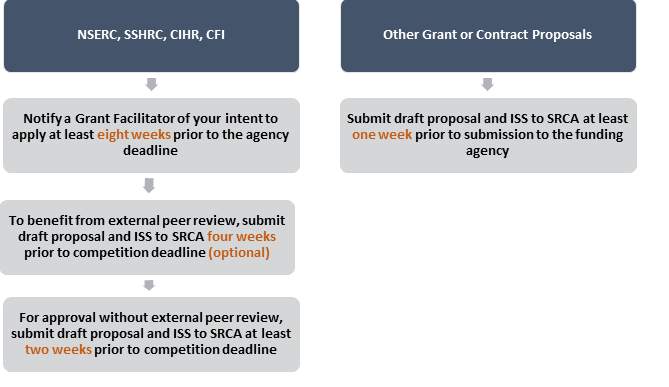 Note: The SRCA Office cannot guarantee that proposals received past the internal deadline will be approved for submission.
Contract Process
The Scholarship, Research and Creative Activity Office is responsible for the primary coordination, negotiation, and administration of research contracts for VIU.  All research contracts must be signed by an official representative of the institution. The authorized signatory for VIU is the President or their designate (for most research contracts, the Associate Vice-President, SRCA).
Researchers should seek the assistance of our Contracts Facilitator early in the contract process. The Facilitator will work with the researcher to negotiate a contract that will satisfy the research requirements and comply with University policies. Early involvement of the SRCA Office will help streamline the process of review and signature, and help to avoid delays.
Find out more about the contracts process.
Grant Facilitation
Our Grant Facilitators are available to identify funding opportunities, offer advice and review grant applications before submission to external agencies.
Dr. Roisin Mulligan, Grant Facilitator (Science & Technology, Health), can be reached at Roisin.Mulligan@viu.ca or 250.753.3245 Ext: 2575.
Bettina Ruhstein, Grant Facilitator (all other areas), can be reached at Bettina.Ruhstein@viu.ca or 250.753.3245 Ext. 2354.
Find out more about the grant application process.