CSI's popular Let's Talk Seafood...and eat it too! Is our monthly lunch-and-learn — and a great way to digest both current seafood research and a fabulous seafood meal prepared by local chefs or VIU culinary students.
We're looking for industry partners to sponsor and help support these popular public luncheons. If you're involved in the seafood industry or its research and policy circles or if you're a member of a First Nations fishery, here's an opportunity to feature your own product or research before a public audience. These luncheons give you a chance to introduce your product to consumers, to gauge their reactions, and to teach them how to use it in their home-cooking adventures.
If you're one of CSI's local guests, Let's Talk Seafood provides you not only an amazing seafood lunch, but also up-to-date information about the local seafood industry, a list of new contacts in the business , and a recipe card for your session's meal— all for between $25 to $35.
Last Spring: Let's Talk Seafood and eat it too! Golden Eagle Sablefish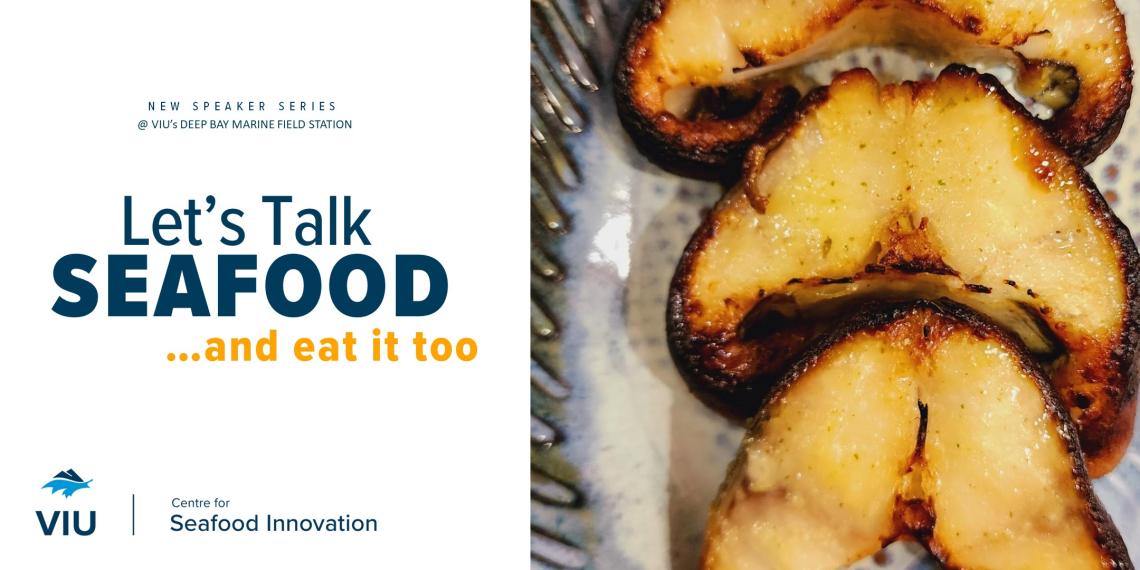 Join us for a homestyle seafood lunch and presentation by special guest, celebrity Chef Jade Berg, from Golden Eagle Sablefish. This talk will focus on everything sablefish farming – biology, rearing, industry, and its place in the BC seafood sector. Learn about this unique species and the sustainable practices used to rear these fish from egg to harvest, from the hatchery on Salt Spring Island to the farm in the pristine waters of Kyuquot Sound. You will also have a chance to contribute to new sustainable seafood product development by providing feedback on your meal. 
Past Sessions
BC Seafood & Young Fishermen's Network, Trish Whetstone joined us to speak about her work with sustainable fisheries in BC, including the BC Young Fishermen's Network. A perfect addition to our series, Trish is a strong advocate for education and providing the support that small-scale harvesters in BC need to thrive.
The Seaweed Challenge, Dr. Andrew Loudon will spoke about his experiences co-leading the Seaweed Challenge, a cross-disciplinary project with VIU Culinary and Microbiology students. The Seaweed Challenge was CSI's third student challenge and focused on developing new products from farmed, wild, and invasive species of seaweed.
The Sturgeon Challenge, which showcased a project between Omega Pacific, VIU Culinary Arts, and the Centre for Seafood Innovation — and included a buffet seafood lunch.
Building Better Bivalves: The use of the intertidal zone for improving the environmental resilience of the Pacific oyster, which informed guests on the challenges to sustainability of this local culinary staple, and featured a homestyle seafood lunch.
Keeping Scallops Alive from Farm to Market, led by VIU student Melanie Poerner Loureiro, who discussed the challenges faced by scallop farmers and the innovative solutions researched at CSI and Centre for Shellfish Research. This session also featured a homestyle seafood lunch featuring scallops from West Coast Scallops.

Seaweed Aquaculture and Rural Communities, with a presentation by VIU graduate student Sarah Foulkes on opportunities and industry challenges for the local seaweed aquaculture industry. Chefs at Sweetpea Provisions used dehydrated and pickled kelp to prepare a seaweed udon noodle bowl for guests.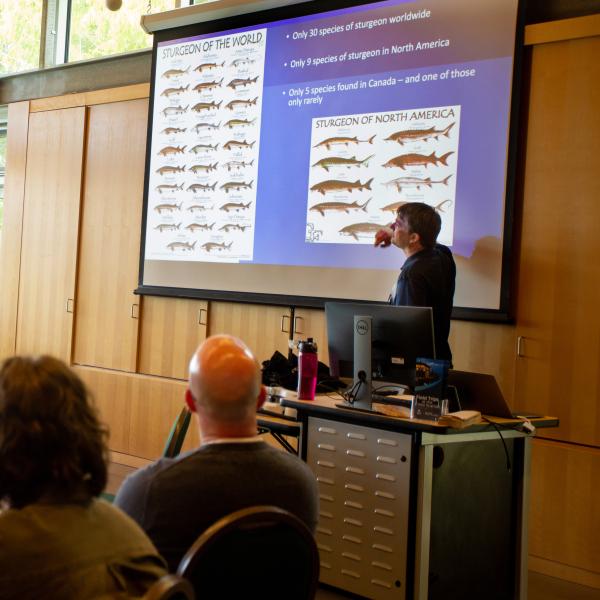 Interested in sponsoring an LTS event?
CSI relies on industry sponsors to keep costs down and feature your products to our guests.
Interested in presenting at a LTS event?
Please get in touch.
About the Program
Let's Talk Seafood & eat it too (LTS) is a public education program to improve understanding between consumers (local community), industry (shellfish farming/aquaculture) and Vancouver Island Post-Secondary Institutions (students and researchers) towards building support for shellfish aquaculture and related research. LTS also provides experiential learning opportunities to students which contributes to workforce attraction. LTS addresses domestic seafood consumption by increasing consumers' knowledge on the culinary preparation of shellfish through tips, recipes, and discussions with chefs.
Thanks to the VIU Work Opportunity program for contributing to students that have helped with LTS events.