The Center for Seafood Innovation (CSI) at Vancouver Island University is a research hub focused on the innovation needs of BC's seafood companies to extract more value from sustainable seafood harvests.  
To do this, CSI works with Vancouver Island University (VIU) faculty and students to conduct applied research on seafood issues. Our multidisciplinary activities range from the development of new seafood recipes to trials of emerging food technologies to communication research. These projects provide VIU students with invaluable experience — and the seafood industry with a graduating workforce attuned to industry needs.  
We network with BC seafood entrepreneurs to better understand the challenges facing the industry. In addition to applied research, CSI supports business owners with business development, public education and workforce attraction projects to foster ongoing innovation. If your business requires coaching, workshops, or commercial kitchen, classroom or event space rentals, CSI can help. 
Mandate
Create new opportunities for BC seafood businesses and strengthen food security so British Columbians can rely on locally grown, harvested and processed food now and for generations to come.
Our Story
Why
CSI is the culmination of years of perseverance and research into industry needs. VIU is a leader in marine research; the addition of the Centre for Seafood Innovation links culinary, business, distribution and research expertise needed for seafood industry innovation.
What
CSI offers a commercial kitchen, event and training space. It will work with processing partners to provide research, pilot and commercial processing capacity. A lean and adaptive organization, CSI is guided by industry needs.  As needs change, so will our service offerings.
Where
The Centre for Seafood Innovation is based at Vancouver Island University's Deep Bay Marine Field Station in Bowser, BC.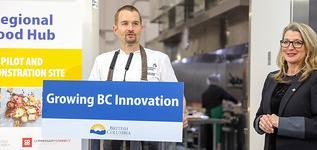 The Centre for Seafood Innovation is part of the BC Food Hub Network, and one of 12 provincial food hubs funded through the BC Ministry of Agriculture and Food. The BC Food Hub Network fosters growth and innovation in the processing sector through improved industry access to facilities, equipment, technology, technical services and business supports. Developed in collaboration with industry, communities and post-secondary institutions, this network supports provincial food and beverage processing while serving the regional and sector diversity of the province.